The fashion designing industry is one that pays handsome figures to both the employees as well as those who are on their own. Here are some details of this ever-growing fashion industry:
Almost all of us have had a fascination of buying designer clothing at some point of our lives. The people behind these exquisite clothing are the hard working fashion designers and their employees. Today, it s a dream of every aspiring fashion designer to make a name for himself and leave a mark on the fashion designing industry.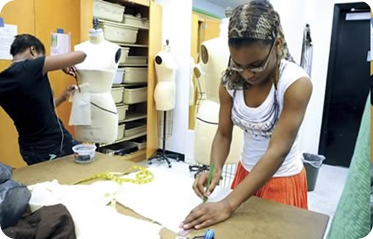 Though the industry pays a lot of money, it is only when you work hard for it. There are no free meals in this industry. Keep these ground realities in mind if you are planning to take up fashion designing as a career. Though hard work is what pays, it is important to work smart. Networking and negotiation are the two keys needed to open the treasure chest in the fashion industry. 
The average annual salary in the fashion designing industry can be anywhere between $65,000 US to even a million dollars depending upon how good you are. And also, close proximity to fashion centrals of the world is of utmost importance. Some of these cities are Paris which is known as the fashion capital of the world, Los Angeles, New York, Zurich etc. and the cost of living in and around these cities can be pretty high.
Though you may start off with a very low salary at onset, sometimes even below $10,000, it is important that you be patient. The fashion designing industry does not function in the conventional manner as other industries do. Though the demand for new designers is always high, good positions get taken up very quickly and they may not be available again for a very long period of time.